Waste Not
Entry to the 8 Bits to Infinity Mundane Jam
Waste Not is a puzzle platformer about loading and unloading trucks, but be careful, and don't let the food decay!

User Interface
Each truck wants to be loaded with some specific type of box, which can be seen on the truck itself, or on the current truck indicator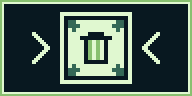 The next three trucks are also visible in the next truck queue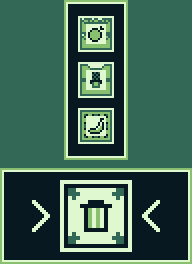 Trucks can earn or lose you money, as seen on the bill, which shows all types of boxes, how many are in the truck, and the total profit / loss on this truck

The current amount of money + the truck timer are also in the user interface

Color Palettes
The main reward for playing is different color palettes, palettes.txt includes all the information you need to unlock them all, but you can unlock most by playing normally!
There are 30 palettes in the game, 18 of which have to be unlocked through gameplay, good luck, and don't let anything go to waste!